The price of pasta, tinned tomatoes and strawberry jam jumped last year as the cost of supermarket staples rose, new figures for the BBC suggest.
Overall, the price of a basket filled with 15 standard food items rose by £1.32, or 8%, in just one year.
Changes in the average cost of the food items at Asda, Morrisons, Sainsbury's and Tesco were tracked by retail research firm Assosia.
Some items fell in price, with carrots and mild cheddar seeing small declines.
The same basket of food made up of items from the cheaper "value" ranges at the supermarkets recorded an overall fall in price, down 45p, or 4%. But within that, items such as pasta and vanilla ice cream saw rises of more than 6%.
Other items the firm tracked in the new research for BBC News included tortilla chips, fish fingers, honey, blueberries, carrots and lemons.
Although official figures suggest that the overall cost of living increased by 5.4% in the year to December, this number – known as the inflation rate – can mask some steep rises seen at the tills, especially on everyday items.
There are many factors that can make it difficult to track how prices are changing for households, such as promotions at supermarkets or a lack of availability of certain products.
Asda, for example, recently pledged to stock its budget ranges in all of its 581 supermarkets and online after complaints from anti-poverty campaigner Jack Monroe.
"Looking at food prices is a bit of a minefield", says Kay Staniland, director at Assosia. Her company selected a snapshot of popular products that were comparable across the value and standard ranges.
"I think the figures show that retailers are trying to avoid the biggest increases to value lines as much as possible. But these value lines do make up a small part of total ranges. The standard mid-tier range is where the largest volume of sales come from," she says.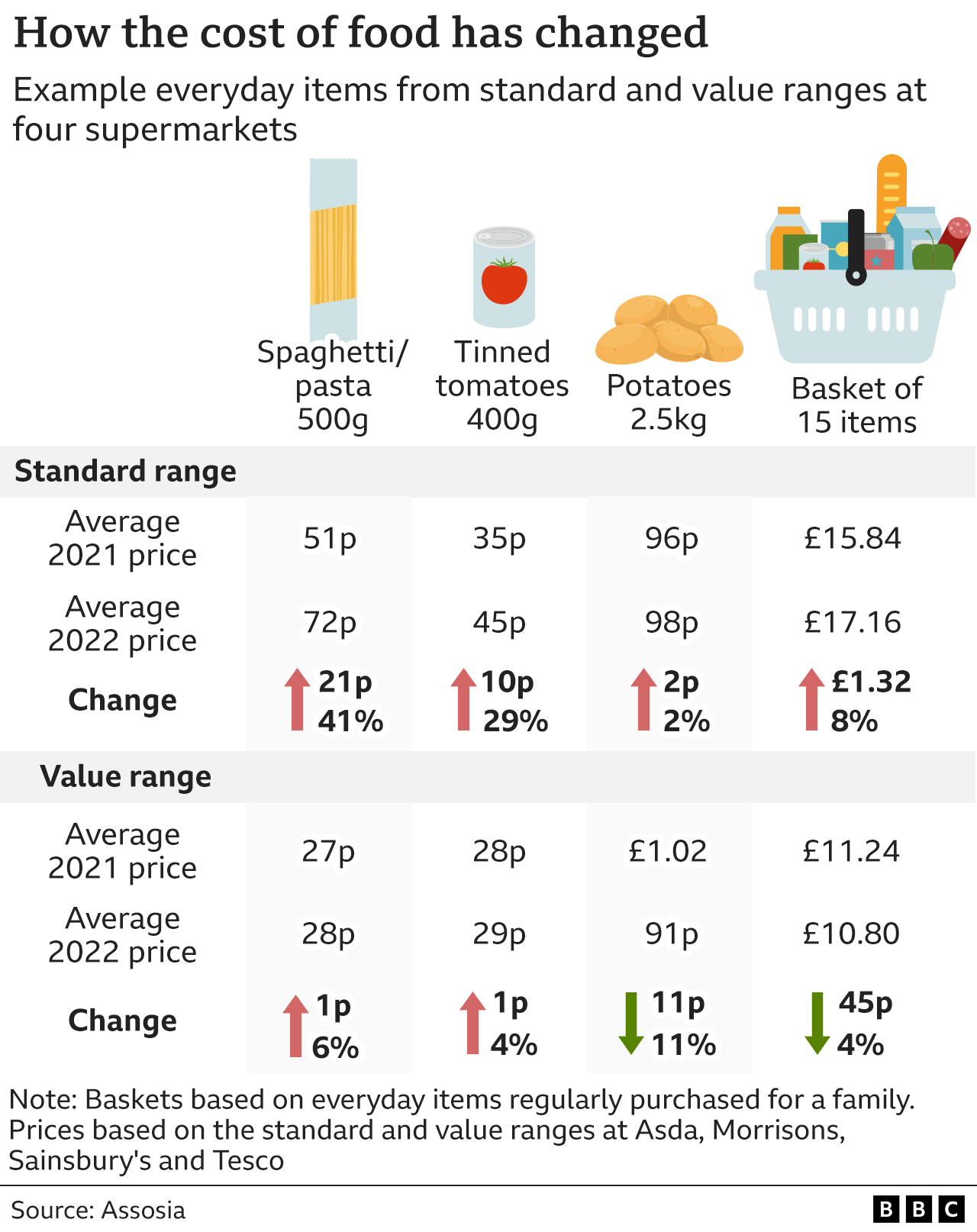 Adam Leyland, editor of The Grocer magazine, also tracks a weekly basket of goods and how prices differ across the supermarket aisles. He says "we're now in a 'once in a generation' moment for food inflation in the UK".
"We've not seen anything like this since the financial crash in 2008. And this is just the start. It's going to go on for two or two and a half years, probably as various costs and problems filter through into the system."
"The food market is incredibly competitive and if you put your prices up ahead of the competition, the shopper will notice. Right now, more than ever, price is the major focus for the shopper. And they will vote with their feet," he says.
'We've completely changed how we shop'
Shoppers such as Fernanda Almeida have already been feeling the pinch, though.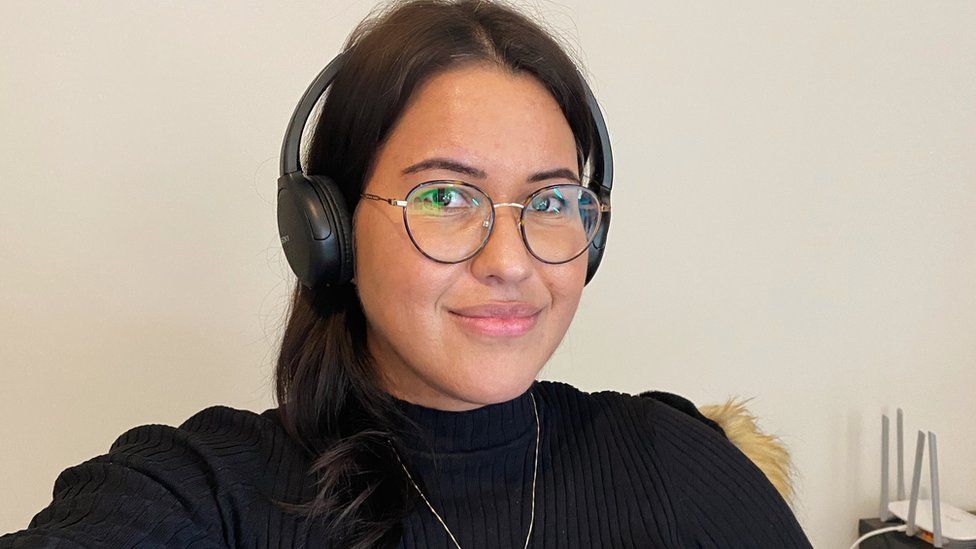 She lives with her partner in Worcester and the pair used to purchase ready-meals, or pots of instant porridge, which he could take along to his military barracks where cooking space is limited.
But after the shopping bill went up by about £20 a week, they introduced some changes.
"Our shopping has changed completely… we're definitely cooking from scratch a lot more now because it just works out cheaper," Fernanda says.
She says she feels "worried". "I've gone from someone who has a budget per month but goes to the shop without a list, picks up things that I fancy eating, to planning each meal, checking items off against the list."
She's noticed that tinned items in particular have gone up in price and it can often be cheaper to buy individual items for recipes in larger supermarkets, even in comparison with discount stores like Aldi or Lidl.
Vimbai Gwata-St John in Bexley has seen her food shop go up by about £20 a week, too.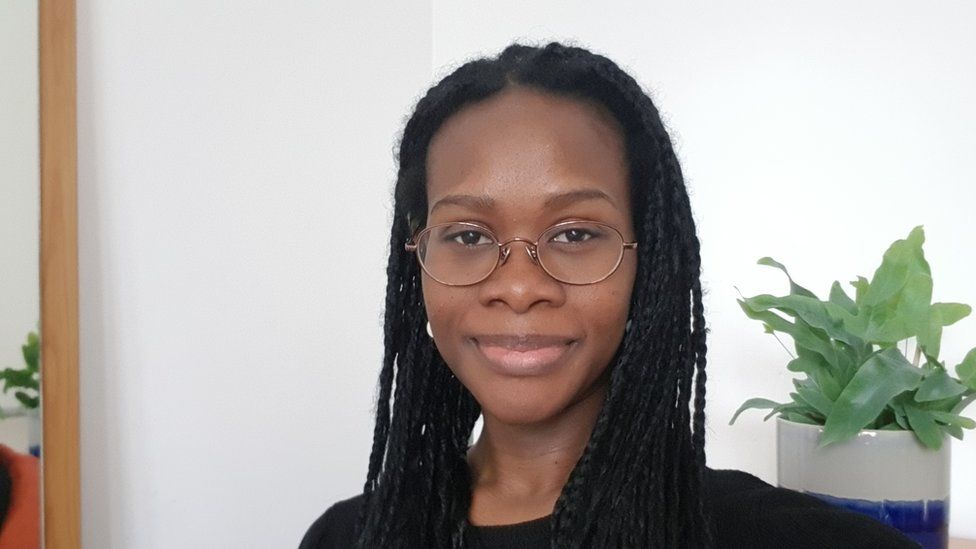 As a mum to an 18-week-old baby with food intolerances she has had to chop and change what they are buying from week to week.
She says she used to follow a budget strictly until she became ill during her pregnancy.
"Because of that, we didn't have time or ability to track our expenses, we just bought what we needed out of desperation because of the other problems at that point in our lives."
Now she is trying to get the budget back on track and is looking at couponing or starting to buy items such as toilet paper or nappies in bulk.
Although prices are going up across the board, she says: "The one thing you can't compromise on is food."
How supermarkets manage their own inflationary pressures will have consequences for millions of households. And the least well-off, which spend a bigger share of income on essentials such as food and energy, are less able to absorb soaring prices in the aisles.
The big four supermarket chains have learned from the mistakes they made in 2008, when they put prices up. Aldi and Lidl swooped, stealing customers and market share. Their businesses have since doubled in size and are still opening new stores.
"It's a real dog-eat-dog situation," says Adam Leyland.
"The battleground is value. And they are determined to stop them (the discounters) making further grounds. For instance, Tesco and Sainsbury's are price-matching Aldi.
Cost cutting, shrinkflation – reducing the size of a product but not the price – and cutting back on expensive ingredients are just some of the tactics that retailers are using to mitigate the rising cost of groceries. But the trend is clear.
Assosia recorded more than 17,000 price increases across the main supermarkets last month, more than double the number in the same month last year, and across every category.
"Inflation is everywhere" says Mr Leyland. And he agrees with the recent warning from John Allan, the chairman of Tesco, that the worst is yet to come.